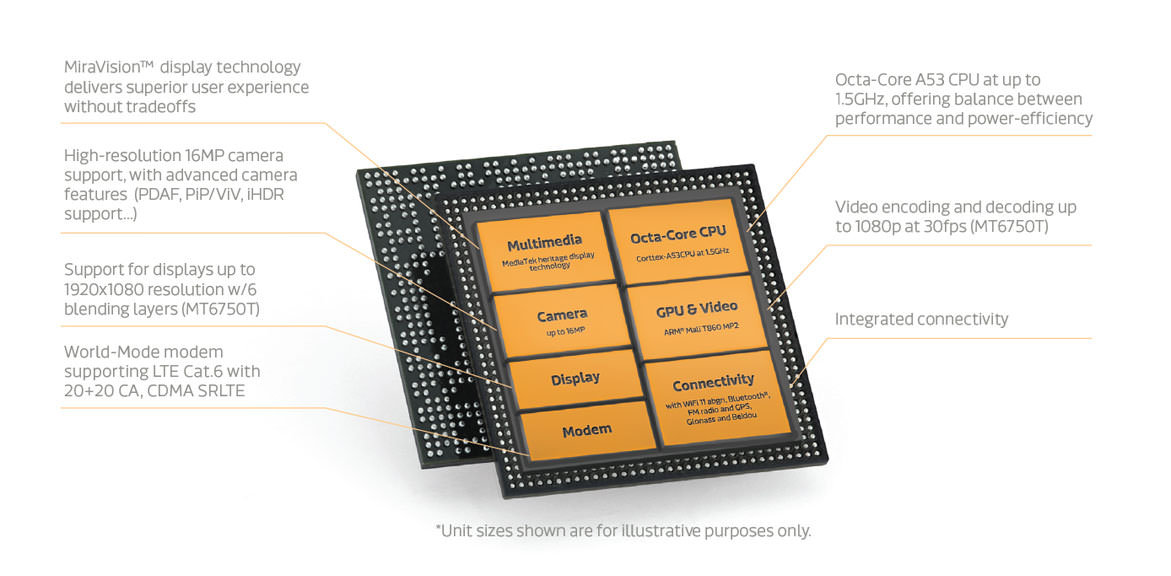 MediaTek is the king of embedded technologies, designing processors and chipsets. MediaTek has launched MediaTek MT6750 processor for mid-range smartphones. MediaTek MT6750 processor is an octa-core smartphone chip with a 4G LTE Cat-6 modem. Using smartphone enabled with MediaTek MT6750 processor will give you a great user experience. MediaTek MT6750 processor enabled smartphones are faster and will give you a smooth flow of apps, multimedia, and photography.
Features of MediaTek MT6750 Processor:
Great Connectivity:
MediaTek MT6750 processor uses 4G LTE Cat-6 modem and radio frequency module and it will help you to stay connected with your loved ones anytime and anywhere. This chipset also supports VoLTE, ViLTE, and WoWiFi. It is enabled with 2x Carrier Aggregation and it covers worldwide 4G network. It fetches the data as similar as fiber optics landline connections that are up to 300Mbps downlink and up to 50Mbps uplink.
High-Quality Videos:
Everyone loves to capture beautiful moments in a video and MediaTek MT6750 processor enabled smartphones have got the amazing video capturing functionality. It gives you a great user experience and captures the videos in Full HD at 24fps.
Amazing Display Quality:
While using the mobile phones powered by MediaTek MT6750 processor you won't feel any difference between the real world and what you see on your mobile display. It gives you such a real experience that you will not believe until you see it with your eyes. It uses Miravision display technology with 6 layer user interface compatibility and life-like colorful visuals. MediaTek MT6750 processors are suitable to play high definition quality videos or for streaming online videos.
Last Longing Smart Battery:
When you charge your smartphone and it takes four hours to charge your battery to 100%, it is the most frustrating thing. MediaTek MT6750 processor enabled smartphones will charge your phone's battery up to 75% in just 30 minutes. MediaTek MT6750 processor is compatible with MediaTek Pump Express 2.0 and it speeds up your mobile phone's battery to a new level and it feels like you have the smartest mobile phone in your hands.
Awesome Camera:
The smartphones enabled with MediaTek MT6750 provides you with advanced photo technologies, starting with a support for high resolution captures up to 16MP, electronic image stabilization with the option of high dynamic range, laser, and hybrid auto-focus support, picture enhancing features and choice between RWWB and RGB sensors for exceptional light performance. MediaTek MT6750 makes the photography easier and will give you an amazing experience.
Powerful Performance:
With MediaTek MT6750 processor enabled smartphones, you will experience the powerful performance. Within MT6750 is an Octa-core processor based on Cortex-A53 which performs unlike any other in the category. Awesome power-efficiency from processor taps each of the 8 cores only when needed, allowing for awesome multimedia content experiences. MediaTek MT6750's CPU is clocked up to 1.5GHz and is complemented by next-generation graphics with the Mali T-860 GPU.
Why Choose MediaTek MT6750 Processor Enabled Smartphones?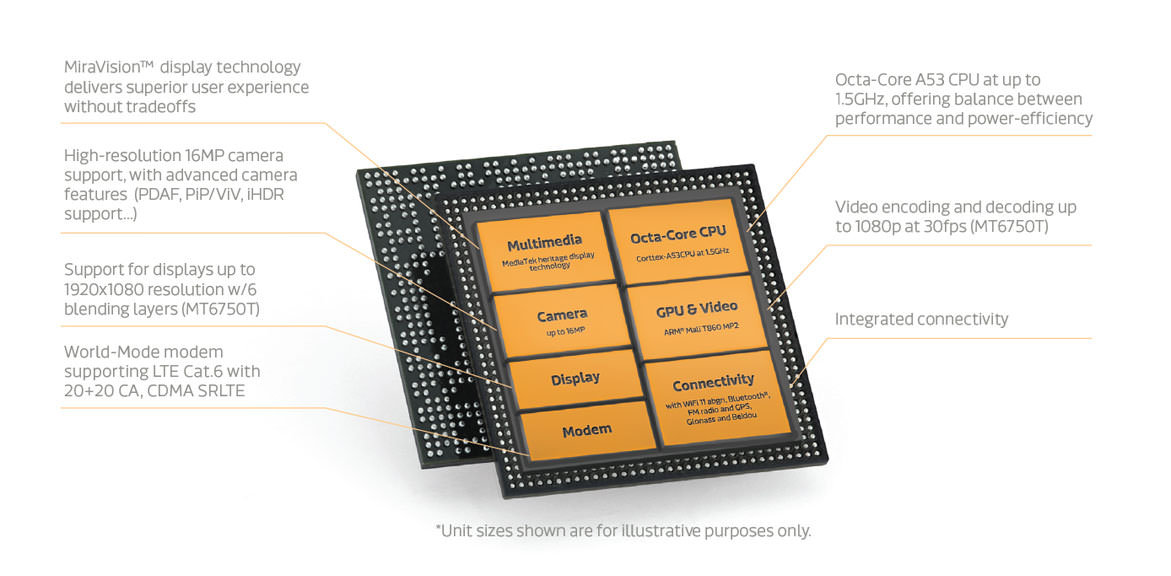 Integrated Connectivity.
High resolution 16 MP camera support.
Support for display up to a resolution of 1920×1080 pixels.
MiraVision display technology that will give the premium user experience.
Octa-Core A53 CPU at up to 1.5GHz and it will maintain the balance between power efficiency and performance.
Video encoding and decoding up to 1080p at 30fps (MT6750T).
World-mode Modem supporting LTE Cat 6.
With this information, I am sure if you are going to buy any mid-range mobile phones then you will go for MediaTek MT6750 processor.
What do you think about MediaTek MT6750 processor? Share your thoughts in the comments section below and don't forget to visit the official page of MediaTek MT6750.